Tags
chiefs of staff, Dec 7 1941, government, Military, Norfolk VA, nuclear carriers, Obama administration, pearl harbor, US Military, US Navy, US News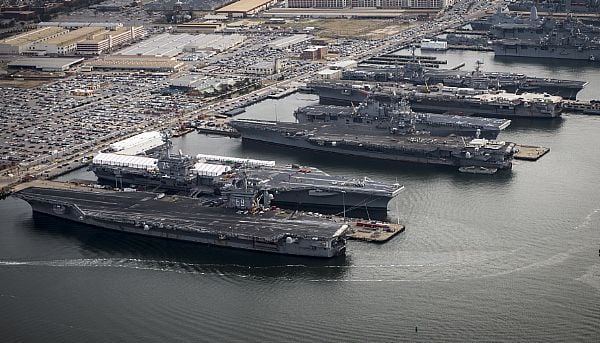 The aircraft carriers USS Dwight D. Eisenhower (CVN 69), USS George H.W. Bush (CVN 77), USS Enterprise (CVN 65), USS Harry S. Truman (CVN 75), and USS Abraham Lincoln (CVN 72) are in port at Naval Station Norfolk, Va.
The U.S. Navy will delay the refueling of the aircraft carrier USS Abraham Lincoln (CVN-72) for an unknown period because of the uncertain fiscal environment due to the ongoing legislative struggle, the service told Congress in a Friday message obtained by USNI News.
Lincoln was scheduled to be moved to Huntington Ingalls Industries' (HII) Newport News Shipyard later this month to begin the 4-year refueling and complex overhaul (RCOH) of the ship.
"This delay is due to uncertainty in the Fiscal Year 2013 appropriations bill, both in the timing and funding level available for the first full year of the contract," the message said. "CVN-72 will remain at Norfolk Naval Base where the ships force personnel will continue to conduct routine maintenance until sufficient funding is received for the initial execution of the RCOH."
[TAR Editor's note: Look familiar? Try Pearl Harbor. Sitting ducks in a row & supposedly a breach of a long standing military protocol in the Navy meant to avoid massive enemy strike on major US forces.]